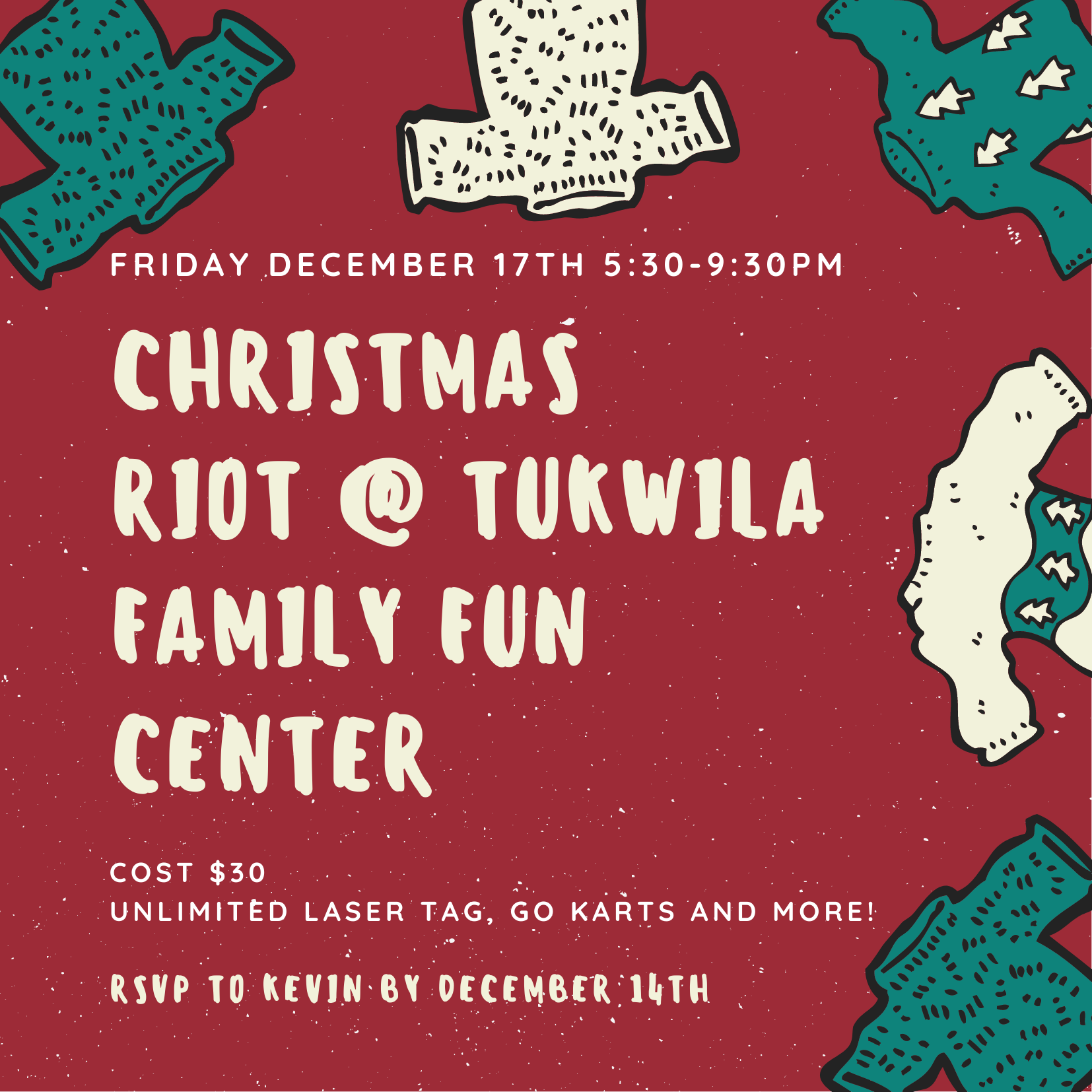 "Middle Schoolers! Join us for a fantastically fun adventure! Christmas Riot with John Knox Presbyterian. We will be gathering outside the youth room in vans, and headed to the Tukwila Family Fun Center!"
DETAILS
When: December 17th 5:30-9:30
Where: Pick up and Drop off at John Knox Presbyterian Outside the Youth Room.
(Headed to Tukwila Family Fun Center)
Why: WHY NOT?! Fellowship with your best buds! Common!
Cost: $30 and Permission slip .
*Pizza will be provided for Sustenance
Middle School Sunday School
Middle School Sunday School meets during the 9:45am Worship Service Times. Students begin in worship and will be excused for class after the family blessing. We meet in the Youth Room.
Are you ready? Middle School & High School Youth Groups will meet on Wednesday evenings. Our team of leaders are excited about staring a new season. Come join us and bring your friends.

The Middle School group meets from 6:30-7:30pm in the Youth Room.
The High School group meets form 7:30-9pm in the Youth Room.
To view our JK Students Fall 2021 Schedule, click HERE.
We believe that true life, salvation and redemption only occur through an encounter with Jesus Christ. We strive to be a place where every student can have that life changing encounter with Jesus.
We believe that connecting with one another is the best way to live the Christian life. We strive to make sure that every student is connected regardless of school, race, socioeconomic background or previous faith experience. We strive to make connecting a part of every program, camp, or retreat we do.
Spiritual growth is a difficult thing, but we believe that we should not stay like little infants, but rather grow up in our faith. We take spiritual growth very seriously at John Knox. We try to let students grow both in their knowledge of God and faith as well as their understanding of how that knowledge plays itself out practically in their lives.
We believe that God wants us to reach out to others using the gifts He has given us. We strive to create places where students can develop and use their gifts for God's Kingdom. These may include student leadership, mission trips, ministry teams, service days and other opportunities.
To stay in the loop, please
Text 84576
JKHS for High School
JKMS for Middle School
For questions or more information, please contact Kevin Cox