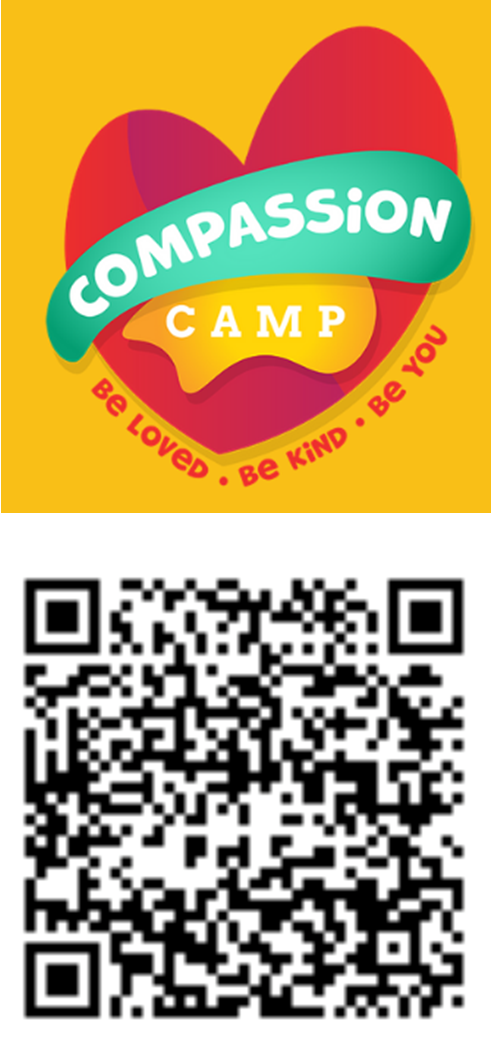 Save the Dates for Compassion Camp | July 12-16, & 17, 2021
Compassion Camp by Illustrated Ministries
We will publish short Vacation Bible Camp type curriculum videos Monday through Friday July 12-16, then host a Compassion Camp event for families to attend together on Saturday, July 17 on campus at JKPC!
Registration for all attendees (adults and kids) is OPEN click HERE!
Or scan the QR Code provided.
Compassion Camp: Be Kind. Be Loved. Be You, is where kids and their families will explore what it means to have compassion for others, ourselves, and the world. It is geared toward preschool-age children and K-5th graders. Family members of all ages welcome with registration. An adult must register with your JK Kiddo.
Volunteer Opportunities for Vacation Bible Camp: For the 5 curriculum videos, we will need community help, YOU! Your family has a unique opportunity to help record pieces for those videos.
There are also many hands-on options for helping prep for or during the Saturday event.
Here is a Sign Up Genius to help us keep track of what's still available, THANK YOU!
Opportunities for helping out: Please email Linda!
JK Kids In-Person
Sunday School
JOIN US FOR "JK KIDS FAMILY FUN"
JK Kids are excited to host families in-person after second service in June.
All attendees of in-person events will be asked to follow the posted COVID Safety Measures at JKPC including masks for all attendees age 3 and older, and 6 ft. social distancing.
JUNE bringd in-person Sunday School alternatives
• Families, please join JK Kids leaders right after the second worship service wraps up
• Activities and snacks outside in the courtyard of JKPC
• NO Sunday School lesson – just fun and hang out time together
• Please register when you arrive for the purpose of Contact Tracing
• June 6 will be our first Family Fun Sunday! You will be able to register for VBC and pickup any missed eSS Door Prizes along with all the other fun we'll have!
• June 13 will be our MOVING UP Celebration (this is event is by reservation only). No Sunday School hangout time this day.
• June 20 & 27 will be Family Fun Sundays in the Courtyard again, join us!
Please join our JK Kids Realm Group. If you don't have a Realm account, please sign up here: https://onrealm.org/jkpcusa/register
For more information or to volunteer in Children's Ministry (JK Kids), please contact Linda Farnsworth, JK Kids Coordinator.