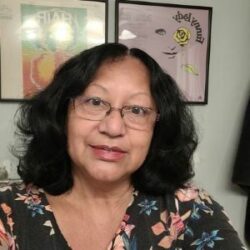 Suzanna (Suzy) VanHout Lindeke has served as Executive Assistant/Office Manager of John Knox since August 2000. Before arriving at JK, she served her home congregation, Resurrection Lutheran (RLC), for 11 1/2 years beginning as the Church Secretary and later serving as Assimilation Coordinator. She and her husband, Dale, also served as worship leaders for 30+ years and continue to be active in church leadership at RLC.
Suzy was born in Jakarta, Indonesia where she lived for a year and a half. Being an "INDO" (Dutch/Indonesian), her family moved to the Netherlands for a time. Several years later, the family immigrated to America. They were sponsored by a Presbyterian church and landed in Corvallis, Oregon. Her dad was offered a position in the Seattle area and the family moved once again settling in Des Moines.
Suzy and Dale have two adult children and three grand-daughters. They enjoy spending time with family/church family and teaching Ballroom and Latin Dancing and going out dancing whenever possible.