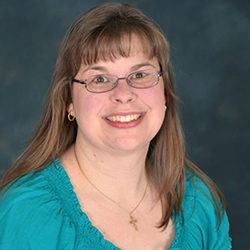 I am Kristine Jung, the Director of John Knox Community Preschool. Since I was young, I have felt drawn to education, with my first teaching experience coming when I was in 2nd grade "teaching" my preschool-aged sister how to read. I didn't know God then, but looking back can easily acknowledge God's direction and guidance in my life.
Fast forward many years, and I am privileged to serve God through my work at the preschool, supporting families and teachers in the education of young children. I am currently working to achieve my Education Specialist Degree in Early Childhood Education (just a dissertation shy of a doctorate) and working to help this community thrive in its vision of guiding children as they grow to love God, love others, and love themselves as God does.
My husband, David, and I have three exceptional children, Emily, Daniel, and Michael, who are happiest when we don't ask them to go on road trips for vacations. I love to explore this fantastic world through road trips, books, music and musicals, gardening, beaches, mountains, and, of course, all the wonderful people God invites me to meet. I look forward to serving with you.